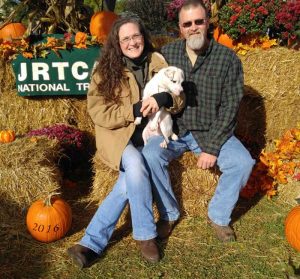 Chestnut Hill JRTs is a kennel located in central Virginia. We've had Jack Russell Terriers in our lives since childhood. Our dogs excel in go-to-ground, conformation, racing, super earth, and lure coursing. Every family member is involved in our dogs daily life.
Whether clearing the barn of mice, chasing the lure through the field, or darting down a go-to-ground tunnel. Our dogs are cherished family members and at the end of the day, are the best snugglers on the planet.
We are members of the Jack Russell Terrier Club of America (JRTCA), Virginia Jack Russell Terrier Club (VJRTC), Carolinas Jack Russell Terrier Club (CJRTC), Midwest Jack Russell Terrier Club (MJRTC), American Working Terrier Association (AWTA) and Patterdale Terrier Club of America (PTCA).
We are a JRTCA registered kennel and we test our Jack Russell Terriers (i.e., BAER, CERF, PLL, etc).
You may have seen us at Jack Russell Terrier trials where we run the Thunder Tunnel event. Thunder Tunnel is a non-sanctioned, challenging tunnel experience for Jack Russell Terriers.
Chet and Janie Atkins
545 Atwell Ln.
Keysville, Virginia 23947
chet@ChestnutHillJRT.com
252-673-6486
Contact Us